The CBC.ca news story about the fire at the Bell Central Office in Cat Lake First Nation is a great example of the importance of First Mile telecom work by the community (see http://www.cbc.ca/news/canada/thunder-bay/cat-lake-no-phones-1.3805425).
After the fire, Cat Lake leaders worked with KNET (see http://knet.ca) to get their C-Band satellite earth station operating again using the National Indigenous Community Satellite Network (NICSN) bandwidth (see http://satellite.knet.ca). The locally owned cell service was able to use this connection to continue delivering cell phone service throughout the community in partnership with KMobile (see http://mobile.knet.ca). Community owned fibre connections from the cell site run to the health centre, the band office, the school and the police station. So all these network services were able to continue operating.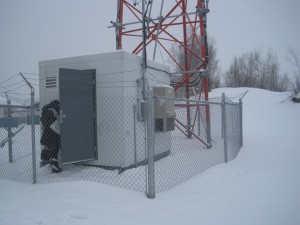 As an interim solution Bell Canada purchased KMobile SIM cards and provided their local customers with cell phones (as described in the CBC story).
The First Nations Innovation team produced a couple of papers about the KMobile cell service that was first established by the KNET team in 2007. 
The papers about KMOBILE are both available on the FirstMile web site (just click on the title to access a PDF copy of the paper) ..
1. The book chapter ..Beaton, B., Burnard, T., Linden, A. & O'Donnell, S. (2015). Keewaytinook mobile: An Indigenous community-owned mobile phone service in northern Canada. In L. Dyson, S. Grant & M. Hendriks (eds.), Indigenous People and Mobile Technologies, Routledge. Sydney, Australia, 109-124.
2. Article in CJC ..  O'Donnell, S., Kakekaspan, G., Beaton, B., Walmark, B., Mason, R., Mak, M. (2011) A New Remote Community-Owned Wireless Communication Service: Fort Severn First Nation Builds Their Local Cellular System with Keewaytinook Mobile. Canadian Journal of Communication,36 (4) 663-673.
KMOBILE has a subordinate licence agreement with Rogers to use their 850 spectrum in the remote communities north of Sioux Lookout.