Good afternoon! I'm excited to announce that last night, the First Mile Connectivity Consortium and First Nations Innovation project received an Award of Excellence (Aboriginal Category) from the Canadian Race Relations Foundation.
Here's the text from the Award Program:
Working together to change digital policy to support Indigenous broadband at the First Mile, First Mile Connectivity Consortium.
The best practice involved working together through the First Mile Connectivity Consortium association to mobilize research and community stories housed on our website (www.firstmile.ca) and informed by a decade of research through the First Nations Innovation research project. This evidence was presented at major public hearings held by the Canadian Radio-Television and Telecommunications Commission (CRTC), to advocate for changes to digital regulation and policy. 
It was argued that all Canadians should have equitable access to broadband services – regardless of location. Importantly, it was stressed that residents of rural, remote, Northern and Indigenous communities, and the technology organizations they have set up, should be involved in any policy or regulatory decisions aimed at securing this goal. 
The FMCC is a national non-profit association of regional First Nations technology organizations serving remote communities (and their supporters).
The award was presented at the CRRF's conference in Toronto. Here's a photo of FMCC Coordinator Rob McMahon, who was at the event to receive the award on behalf of the team.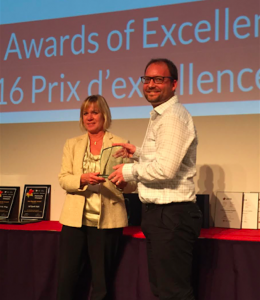 Click here for more information about this year's awards.