We have created a free online course on Indigenous peoples and the e-Community. The course explores the development of Information and communications technology (ICT) in the context of settler colonialism and Indigenous resurgence.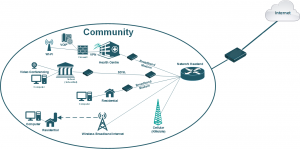 First Nations e-Community Framework (K-Net)
The course was originally developed in 2013-2014 as a for-credit course in the Department of Sociology at the University of New Brunswick (UNB). It was created by the First Nations Innovation (FNI) project, which is funded by the Social Sciences and Humanities Research Council of Canada. The project is a partnership between UNB, Atlantic Canada's First Nations Help Desk, the First Nations Education Council in Quebec, and Keewaytinook Okimakanak in Ontario. The original course was developed by Rob McMahon through his position as a UNB postdoctoral fellow with FNI in collaboration with Brian Beaton and Susan O'Donnell.
In 2021/22, Rob McMahon, now based at the University of Alberta, is working with graduate student researcher Ethan Reitz and FMCC member organizations to revise and update the course. This work is supported by a Killam Accelerator Research Award from the University of Alberta.
Course content (aside from links to external materials) is hosted on servers owned and controlled by KO-KNET, a unique First Nations owned and operated ICT Service Provider in Northern Ontario. The course draws from materials provided by partners and friends of FNI, including many Indigenous service providers and ICT professionals. The course developers thank these individuals and organizations for their contributions to this work!
This course is dedicated to to the memory of Brian Beaton, former manager of K-Net Services in Northwest Ontario, the largest Indigenous-owned and operated telecommunications services company in the world. Brian passed away in fall 2021 and remains an inspiration to us.
This course is a living resource, and we welcome your comments, questions, suggestions and resources. Please email Rob McMahon.
NOTICE:
We are currently updating the course. It will be back online again soon! If you have any questions, please email