The First Mile work in First Nations across Canada (http://firstmile.ca) was well represented at Congress 2017 during the week long event held at Ryerson University in Toronto the week of May 27 to June 2.
At the Association for Nonprofit and Social Economy Research (ANSER), Rob was a member of a panel presenting the chapter he co-authored with Heather Hudson and Lyle Fabian, entitled: "Canada's Northern Communications Policies: The Role of Aboriginal Organizations" as part of the book launch for "The Shifting Terrain: Nonprofit Policy Advocacy in Canada".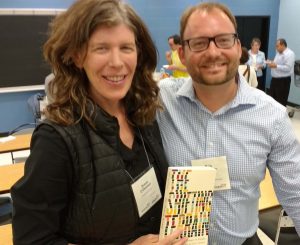 At the Canadian Communications Association conference, Rob McMahon presented "Digital Literacy With Remote And Rural First Nations" and "Exploring Ict4d Through A Technology Stewardship Model: Reflections On An International Action Research Project" (with Gordon Gow, Helen Hambly, Uvasara Dissanayeke). Susan O'Donnell presented "Alternative Media And Rural Community Activism In New Brunswick". Brian Beaton presented "Building First Mile Communication Infrastructure In First Nations".
At the Canadian Sociological Association conference, Susan presented "What would reconciliation look like in New Brunswick?" and "". Brian presented "Doing settler de-"colonization" work with First Nations using communication technologies". Rob presented "We are all related: Using augmented reality and Indigenous storytelling as reconciliation learning resources".
At the Canadian Society for the Study of Education conference, Brian presented "Community Asset Mapping in a remote First Nation in Northwestern Ontario".
Ben Klass was busy handing out his FMCC business cards in his part-time position as our Ottawa contact person. We got to meet Sarah O'Brien, Manager, Policy Framework, Telecommunications at the CRTC who attended several of our presentations about FMCC.
Overall it was a very important gathering for FNI and our First Mile work!!