By Jennifer Leask
No school smartboards, no telehealth, no Netflix, no Facebook, no Skype, no new Internet connections. Most Canadians wouldn't have put up with those conditions years ago. But in the isolated community of Natuashish, it's the modern reality.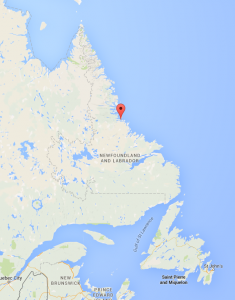 This community of 750 on the Northern coast of Labrador can only be accessed by plane or boat. People know what it is like to be geographically cut off from the rest of Canada. And as the information superhighway has developed in other parts of the world, the people here find themselves cut off from that too.
In past years people in the community struggled with substance abuse and governance issues. This resulted in the Canadian government's decision to relocate the community from Davis Inlet to Natuashish in 2002. But when the new community was established, no one thought to set up Internet infrastructure. In Canada, broadband is not yet considered a 'basic telecommunication service', which may be why it got left out of the planning process. While no one we spoke to in Natuashish knew exactly why no Internet infrastructure was set up then, all agreed the lack of it is holding the community back. than the lack of broadband. However, being unable to access the Internet in a way available to most Canadians adds another layer of complexity and frustration to those challenges.
"It's a complete bottleneck….the network is completely saturated and far outdated," says Jeff Montague, who is the Network Administrator for , and manages the school's connection from 300km away in Happy Valley-Goose Bay.
Montague says for those with one of the few broadband connections it is an "exercise in frustration" to use the Internet.
"There's supposedly 1.5 Mb but you'd be lucky to get 10% of that."
There are two Internet service providers in the community: cable provider Bell Alliant and satellite provider Xplornet, but both companies have a moratorium on new accounts. The school has a dedicated T1 line from Bell Aliant, for which they pay around $1600 a month.
Principal Derrick Fewer says the lack of connectivity creates challenges for him.
"Everything is slow. We use a computer attendance system and I have to update it every day and it is very difficult and frustrating," Fewer said.
Since the school isn't subject to the same bottleneck as residential services it should be fast, but according to Principal Fewer it's anything but. As a result staff face constant frustration in carrying out basic tasks now done online.
For example, attendance is tracked and submitted online, but what would take about ten minutes with a better connection takes him more than an hour each day. , but since people in the community cannot reliably access the Internet, administrators have to rely on old-fashioned techniques like letters home and radio announcements to distribute school news.
The slow connection is also holding teachers back in the classroom, Fewer says, because they can't use tools that need online connectivity. Natuashish students won't be able to learn through any interactive science based websites, because Fewer knows they won't be able to use them so they don't subscribe. An online cloud library service, Tumblebooks, is paid for by the school board but not functional in Natuashish.
Limitations due to slow connectivity extend to other public services, including . Christiane Henningsen, one of the Home and Community Care Nurses in Natuashish, agrees that it makes people feel left behind when they can't get online.
"It makes me feel like I'm a second-class citizen because I'm not good enough for people to bother to provide the service that everybody else [in Canada] takes for granted," she told First Mile.
Telehealth programs are not available in the community because the broadband connectivity is not stable enough to support it, so outside specialists have to fly in to serve patients or community members need to be flown out.
The care Henningsen feels she can offer to the community suffers because of the lack of connectivity, "if I had a more reliable internet connection I could do my job better and faster," she said.
The health clinic had no internet service at all for two months this past spring – the second full outage in two years. Nurses had to spend much of their time going back and forth between an unreliable home connection and a non-existent one at the clinic to send emails or look up health care information.
"Health care in general is trying to go towards electronic data storage and we cannot be a part of this because the connectivity is so slow," says Henningsen. While they can email electronic medical records back and forth, there is no way for outside medical records to be merged with ones in the community. This means she has to rely on old-fashioned phone calls and parallel record systems resulting in less continuity for patient records.
Henningsen also said her quality of life is directly affected by the lack of internet and she says she has heard of others who say they will not be able to stay in Natuashish for the long term, but she says she is planning to stay for the "foreseeable future." Henningsen has been in the community for two years and since then she has not been able to connect by video with her husband via Skype because her connection has never been able to support video and audio at the same time.
Henningsen and Fewer agree better broadband might help with recruitment and retention of much-needed professionals like teachers and nurses.
"It would make a tremendous difference….it is up there in one of the factors in recruiting young teachers and definitely a major factor in retaining teachers," said Fewer. "It certainly would improve the mental health of a lot of people in the community if we had better internet."
It could also improve the economy: Jeff Montague said the plans for an eco-tourism company can't get off the ground in Natuashish because if they want to advertise they have to be able to update a website and answer email.
"You need to have good internet in order to build a local economy these days," says Montague.
---
This community story was produced with the support of a from the (CIRA).