By Jennifer Leask
People in some isolated Indigenous communities in Canada's far North aren't waiting for high-bandwidth Netflix-style video streaming services to come to them. They are building new services for themselves.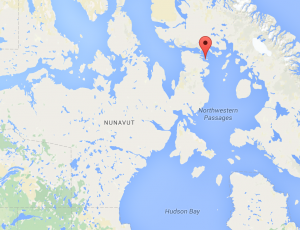 Igloolik, Nunavut, including Igloolik, Arctic Bay, Pond Inlet, Iqaluit, Arviat, Cambridge Bay, Taloyoak, and Hall Beach, people can now tune in to an IsumaTV channel on their televisions to watch 24/7 programming in languages such as Inuktitut and Dene.
Norman Cohn, the producer of Zacharias Kunuk's Cannes Camera d'or winning film , and the co-founder with Kunuk of , explains how this system bridges "20th-century television and 21st-century Internet".
It does this by allowing people to plug into a locally owned and operated television system and wireless Internet service that hosts . In many remote and Northern communities, data overage fees can be extremely costly, IsumaTV gets around this by hosting digital content on a server located in the community. If people stream locally-housed content on-demand, they do it through the community cable TV system or through a local Wi-Fi network that plays videos from the local server, already downloaded from the internet, at no cost to the viewer.
This system is leading to what IsumaTV founder Norman Cohn calls better Internet equality.
"When government talks about making broadband available to every Canadian, they are talking about 1,2,3 or 5 Mb per second download speeds within the next five or 10 years," he said in an interview with FirstMile.ca.
"That's plenty of bandwidth for email and Facebook but it's nowhere near enough speed or monthly cap capacity to be an active Internet user. And by active user, I mean someone who can create and share Indigenous language programming."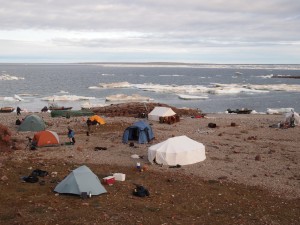 Camping at Qaisut. Photo by Jonathan Frantz from IsumaTV.
Active uses of digital technologies also extend more opportunities for people in these remote communities to engage and consult with natural resource development companies. With more resource exploration opening up across Canada's North, the people most directly affected by these projects must be consulted as part of the environmental approval process.
But since many of these communities conduct public discussions through their own oral languages, said Cohn, written environmental reports or plans are not as well understood compared to audiovisual material.  IsumaTV, by offering high-speed digital content to residents of these communities, provides them with more options for informed consultation.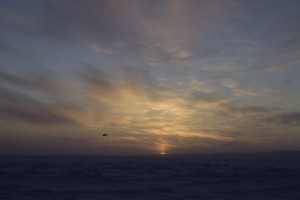 Sun returns – photo by Jonathan Frantz from IsumaTV
Cohn feels that the IsumaTV model can be used to increase transparency around development by capturing and archiving a host of relevant content such as consultation meetings between Indigenous communities and resource companies. This provides a more accountable record of promises and negotiations in a format understood by all involved parties.
For example, an IsumaTV production team filmed the Final Public Hearings on the environmental impact statement of the Baffinland Iron Mine Corporation in three communities: that video was put onto IsumaTV.
"They spend millions of dollars making their submissions [to environmental impact boards]. You can spend a few thousand dollars to finance transparency [regarding these decisions]. This illustrates the business model for this technology and how it could be useful throughout Indigenous regions in Canada," said Cohn.
Besides the important job of encouraging transparency and local input in resource development decision-making and consultations, IsumaTV plays an important role in the preservation of language and the traditional way of life.
Television programming in these communities typically involves watching whatever is on the cable television in the living room- likely news from Detroit or a show from Vancouver or Montreal. These programs are likely in French or English. In communities like Igloolik, with 55 cable channels available only one channel, APTN, provides Indigenous programming, where people can watch only three hours a week in Inuktitut. While APTN's Aboriginal broadcasting is a much-needed service to all Canadians, the diversity of Indigenous languages and cultures across Canada, paired with the limited schedule  and production resources of APTN, means that some content falls through the gaps.
IsumaTV helps address this need. It provides a library of Indigenous content with more than 6,000 films and videos in 80 languages (over 1,300 videos in Inuktitut), along with live streaming and video uploading capabilities, and makes this material available through a TV channel on the local cable system and through Wi-Fi networks connected to people's homes. The channel is programmed by a local station manager. In Igloolik, that person is Carol Kunnuk.
"They watch it [IsumaTV] a lot…Whenever you go into someone's house you can see that they are actually on the channel watching," Kunnuk told FirstMile.ca.
Each week, she makes a playlist of programs selected from the more than 6,000 videos hosted on the IsumaTV server, which runs 24/7 on one of the 55 cable channels available on local TV.
"As the operators for the playlist, we go over the videos: what's new, what is a good video to show for the week…and also we get requests from our community viewers and we put them on the playlist" said Kunnuk.
IsumaTV has been an important resource for some younger Inuit members of the community. Kunnuk said that some community members are reticent in approaching Elders for help with traditional tasks like treating caribou or seal skins. That is because they sometimes feel embarrassed because they think it should be something they already know how to do. IsumaTV's production team has created videos about some of these kinds of practices that take a viewer step-by-step through what to do.
"[People] give us good feedback that they are happy that there is this kind of program for teaching different skills on doing something. They say today it's very complicated to get feedback and advice and questions for what they are aiming and looking for [when treating  hides]" said Kunnuk.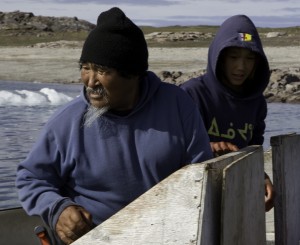 Walrus hunt – photo by Jonathan Frantz from IsumaTV
There is a community mindedness to the channel's management as well: "when people give us feedback on how to improve the process, we try to make difference and try to fix the problem," she said.
Kunnuk also said IsumaTV is also used in the local high school, where students use it to do research and learn about traditional values. IsumaTV carries more than 900 programs from their web site at https://www.isuma.tv/.
While the IsumaTV system is free to the communities it serves now, the project has run out of government funding and there is some question as to how the business model will work in the future. In 2008, the startup money came from a variety of government agencies, and in 2011 IsumaTV won a $1 million investment from the Canadian Media Fund's Experimental Stream.
"As we approach 2016, all of these external [funding] sources have been exhausted… There is no funding agency right now that is dedicated to finance the development of cultural, linguistic, or noncommercial uses of Internet by Aboriginals [or] Minority languages."
---
This community story was reviewed and approved by IsumaTV. It was produced with the support of a  from the (CIRA).